Purafy Clean Technologies, a Kingston-based company that provides advanced, market-leading solutions to the world's water challenges, has partnered with St. Lawrence College and Queen's University to research and develop a patent-pending, Made-in-Canada greywater recycling technology.
The greywater system will aim to purify and recycle wastewater from baths, sinks, washing machines, and other kitchen appliances to reduce household water intake and sewage waste in homes across North America.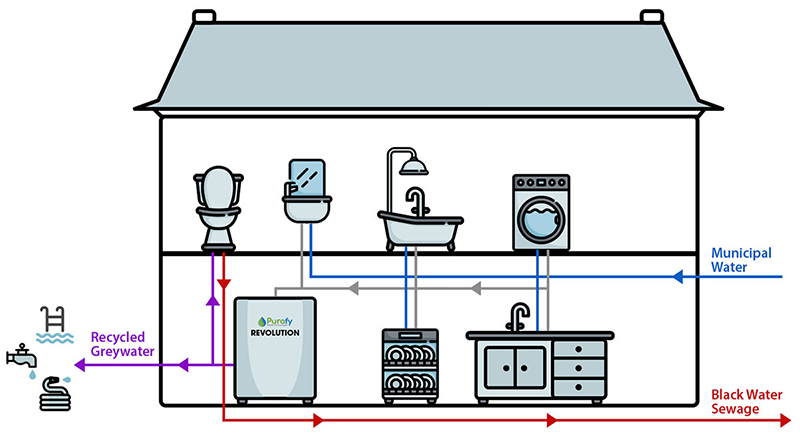 The multi-dimensional research and development project, which is scheduled to last three years, will be funded by the federal and provincial government and installed at Kate's Rest Foundation. Kate's Rest is a property that provides permanent housing geared towards people who were once homeless or were at risk of homelessness.
Fr. Brian Hart, Executive Director and Founder of Kate's Rest Foundation, commented on the importance of this project for the green revolution, which will impact the globe.
Fr. Hart said: "Climate change is impacting our world today, creating millions of climate change refugees in the most affected areas. Kate's Rest Foundation's mandate is to provide permanent supportive housing for homeless people in a way that minimizes our eco-footprint. This project with Purafy, St. Lawrence College, and Queen's University helps us protect our valuable water resources while simultaneously meeting new wastewater volume discharge restrictions imposed on our site by the Ministry of the Environment, Conservation, and Parks for Ontario."
With one in ten people on the planet lacking clean drinking water, the global water crisis is becoming as urgent as the climate change crisis, if not more so. To address this crisis, Purafy applies cutting-edge materials and innovations in graphene nanotechnology to manufacture and distribute effective water filtration systems for commercial and residential use to help defeat water scarcity.
This innovative pilot project is aligned with the newly unveiled Canadian Water Network (CWN) Strategic Plan for 2022-2027. The results of the project are expected to enable existing small businesses to become new water leaders at the community level as partners of Purafy, providing installations and servicing for local customers.
Cameron Runte, VP of Product Development at Purafy, said about the project: "We foresee small businesses in both rural and urban regions playing a significant role in helping Purafy bring this new water conservation technology to market, to both implement and maintain these novel systems within our decentralized water treatment network."
For more information on Purafy and its proprietary and patented graphene products and applications, visit purafy.com